BARE International, a global field force agency and renowned market research firm, is excited to announce a strategic partnership with Stella Kochen Susskind, a distinguished thought leader and the driving force behind SKS Customer Experience.
This collaboration brings together BARE International's decades of expertise in market research and global field force with Stella Kochen Susskind's visionary insights in customer experience, creating a powerful alliance that promises to reshape the landscape of consumer insights across Brazil and LATAM.
SAO PAULO, Brazil, Aug. 30, 2023 /PRNewswire-PRWeb/ -- BARE International has consistently delivered unparalleled insights to businesses across industries, aiding them in making informed decisions to enhance customer satisfaction and loyalty.
With a vast network of mystery shoppers and a robust suite of research solutions, BARE International has earned its reputation as a pioneer in the market research domain.
"We are thrilled to join forces with Stella and SKS Customer Experience," said Mike Bare, CEO of BARE International. "Stella's innovative thinking and deep expertise align seamlessly with our commitment to delivering valuable insights to our clients. This collaboration will undoubtedly propel our capabilities to new heights, empowering businesses to create unparalleled customer experiences."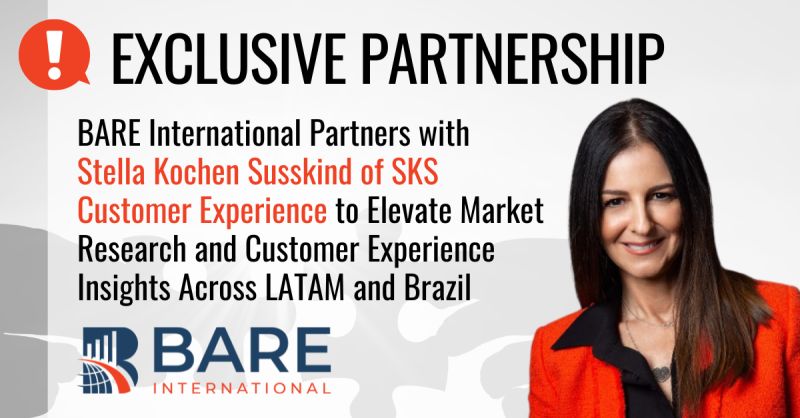 Stella Kochen Susskind is a highly respected expert in customer experience. Her innovative strategies and deep understanding of consumer behavior have transformed businesses all over the world. As the founder of SKS Customer Experience and a published author of 'Mystery Shopper: The Methodology that Revolutionized Customer Service,' which became a bestseller and the first book about Mystery Shopping in Latin America, Stella has developed methodologies that combine emotional intelligence, data analytics, and human-centric design to drive remarkable customer journeys.
"When my publisher asked me to write a book about the Mystery Shopping methodology, I gladly accepted the challenge. I always strive to keep setting new goals and pushing myself forward. Slowing down is just not in my nature," chuckled Susskind. "The Mystery Shopping market has undergone significant changes, with the focus on omnichannel experiences becoming the norm. It's our responsibility to constantly update our concepts and methodologies to keep up with these changes."
Through this partnership, BARE International and Susskind aim to revolutionize how businesses approach market research and enhance customer experience. By synergizing BARE International's data-driven research capabilities with Stella's thought-provoking insights, the partnership will offer comprehensive solutions that unravel the nuances of consumer preferences and provide actionable recommendations to optimize every touchpoint of the customer journey.
Susskind expressed her excitement about the partnership, saying, "Mike and I have known each other for almost 17 years; we always admire each other´s career and life goals, learning from each other's experiences. I am honored to collaborate with BARE International, a company with the same passion for understanding and enhancing customer experiences."
"This is indisputably a unique opportunity to build even more innovative, creative, and customized projects," said Tania Alves, General Manager of the BARE Brazil office. "Joining efforts to achieve our mission of helping our partners pursue excellence in their customers' journeys."
The partnership aims to launch a series of polls and insights that will delve into the latest trends in customer behavior, market dynamics, and innovative research methodologies. BARE International and Susskind intend to guide businesses toward sustainable growth and customer-centric excellence by pooling their collective wisdom.
"Her vast experience in Mystery Shopping and Customer Experience Research will be an invaluable addition to our team and benefit our client partners in Brazil and throughout LATAM," shared Michele Jowdy, Business Development Director of the Americas. "With Stella's help, we are excited to continue to build even better CX programs for our client partners."
About BARE International
BARE International is a global field force agency specializing in customer experience and market research. With over 35 years of experience, BARE International has provided valuable insights to businesses across industries, helping them make informed decisions to enhance customer satisfaction and loyalty. For more information, visit https://www.bareinternational.com
About Stella Kochen Susskind
Stella Kochen Susskind is a thought leader in customer experience and the founder of SKS Customer Experience. With a career spanning several decades, Stella has pioneered innovative approaches to understanding and improving customer journeys. Her expertise lies in blending emotional intelligence, data analytics, and design principles to transform businesses and create lasting connections with customers. For more information, visit https://www.skscustomerexperience.com
https://en.bareinternational.com.cn/wp-content/uploads/2021/09/Press-Release-Header-1030x313-1.png
313
1030
suopu
https://en.bareinternational.com.cn/wp-content/uploads/2023/08/BARE-ISO-Badge-2023-1.png
suopu
2023-08-30 14:03:07
2023-09-05 14:05:47
BARE International Partners with Stella Kochen Susskind of SKS Customer Experience to Elevate Market Research and Customer Experience Insights