While many companies have already placed customer service at the top of their wish lists for 2022, not everyone is primed to realize their growth ambitions. We identified five customer traps that may ultimately impede a company's chances of success, as well as insights and strategies to overcome these challenges.
Customer service isn't wowing customers
What does it mean to offer great customer service?

Depends on who you ask – and research shows that how businesses define it might not be matching up with what customers expect. While 60% of companies surveyed gave themselves high marks for service, 68% of customers say there's room for improvement. In fact, 54% of customers report that customer service feels like an afterthought for most of the businesses they buy from.
Impressing younger customers is an even harder task. Millennials and GenZers tend to have much stronger opinions about what a good customer experience should look like, and they are more critical of companies that don't measure up.
Customer expectations have changed rapidly in recent years, leaving many companies struggling to keep pace. What do customers want?
Customers are also looking for helpful and empathetic agents, always-on support, and streamlined conversational experiences no matter who they're talking to, be it a human or bot.
Despite companies giving themselves a high grade overall, a deeper dive into the data paints a far less rosy picture. Only 18%, for example, say they're extremely satisfied with the number of channels they're offering customers. Similarly, less than 20% rated their resolution speeds as extremely strong, while only 21% could say the same for the ease with which customers can interact with their business.
Now is not the time to settle for mediocre. Especially when the quality of your customer service may earn you repeat customers, or be the reason that you lose out to competitors. By taking the time needed to understand what great customer service means to your unique customer base, you can make the changes necessary to ensure that middle-of-the-road experiences don't hold you back.
Leadership is all talk, but it's the doing that counts
Going all-in on customer service is easy to say, but hard to do. And while leaders may be betting big on customer service as an updated gold mine of growth, many have yet to actually implement the changes necessary to make it happen. Case in point: 72% of business leaders say that their organization views customer service as a critical business priority, but a surprising 40% report that it's still not owned by the C-suite.

Without a clear commitment at the very top, companies risk missing opportunities to weave customer insights into their larger strategic framework. Customer inquiries serve as a vital feedback tool for highlighting what's working or not working with products or services – in real-time. But it's no longer enough to simply close a ticket and move on. When taken together, tickets can reveal critical problem areas or spotlight new opportunities for growth.
Company leaders must be actively engaged in reviewing, disseminating, and acting on these insights to more closely align with customer wants and needs.
And though they seem to understand the potential value of doing so, only 20% report viewing customer service metrics on a daily basis. 40% say they only view data once a month, or even less frequently.
Tapping into growth opportunities with customer service requires firm action from top to bottom. Companies that don't move quickly to make much-needed changes within their organization risk falling behind those who already are. 54% of companies report having a three-year strategic plan for customer service, which means that a little under half still don't. For those without a long-term plan, the time to act is now.
Current investments aren't enough to support a standout team
It's no secret that customers are engaging more with service teams. Support requests – everything from technical questions to help to find the right sweater size – are up 26%, compared to last year.
And companies expect this trend to continue. In the next two years, just over a third of companies predict that they'll see a 25% increase in customer engagement: no small feat for overworked and overstretched support teams.
Increased funding to hire more agents, improve training programs or acquire the latest and greatest technology could help ease the burden, but budget forecasts are largely missing the mark. For the 34% of companies that predict a 25% increase in engagement, only 14% plan to raise their budgets by a similar margin. And while ticket and budget increases shouldn't be thought of as a simple 1:1 ratio, it's clear that many teams are going to have to figure out how to do more with much less.
Despite the lag, budgets, on the whole, are on the rise. Nearly half of companies expect funding for their customer service teams to increase by up to 25% in the next year, and again for the following year. But many could and should be doing more. In fact, only 27% of business respondents strongly agree that their organization is adequately investing in support initiatives.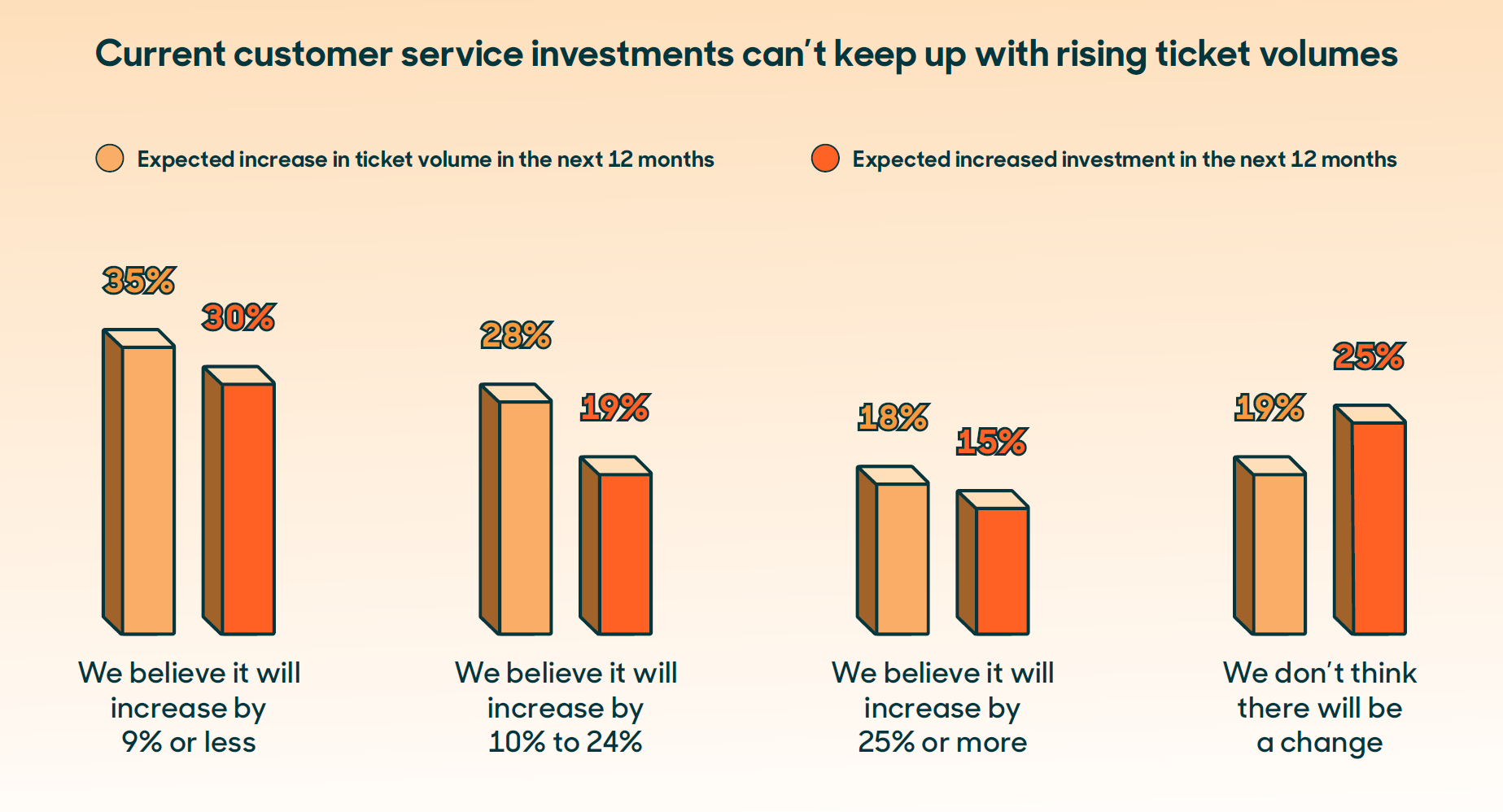 Part of the problem is that many companies still view customer service as a cost center rather than what it should be: a revenue-generating engine for growth. In fact, a near equal split between the two camps suggests that companies may be heading down divergent paths. Those not putting their money where their mouth is, so to speak, will need to become more efficient just to keep up.
Agents are burnt out and feel undervalued
No longer just assisting when things go wrong, service agents are stepping in across the entire customer journey – from the product, discovery to purchase, and well beyond.
As the primary, and often the only human connection that customers have with brands, they've gotten the attention of senior leadership: 78% agree that service agents play a vital role in customer retention. And agents say their work has only become more important and strategic.
Despite the increased visibility, the risk of burnout is high. Heavier workloads, more responsibility, inadequate training, and mixed signals from leaders have many agents feeling overwhelmed and underappreciated. Only 15% of agents are extremely satisfied with their workloads, while a mere 20% report feeling the same way about the quality of training they receive. Taking all factors together, less than 30% feel empowered to do their jobs well.
Companies looking to grow their business with customer service would be wise to take note.
Studies have shown that happier humans make better employees. For support teams, this means better experiences for customers too. But despite widespread support for agent well-being at the uppermost levels, nearly 40% of agents feel like they aren't treated as well as others in the organization. That should have everyone paying attention. Unhappy agents are a slippery slope toward higher churn rates and, ultimately, dissatisfied customers.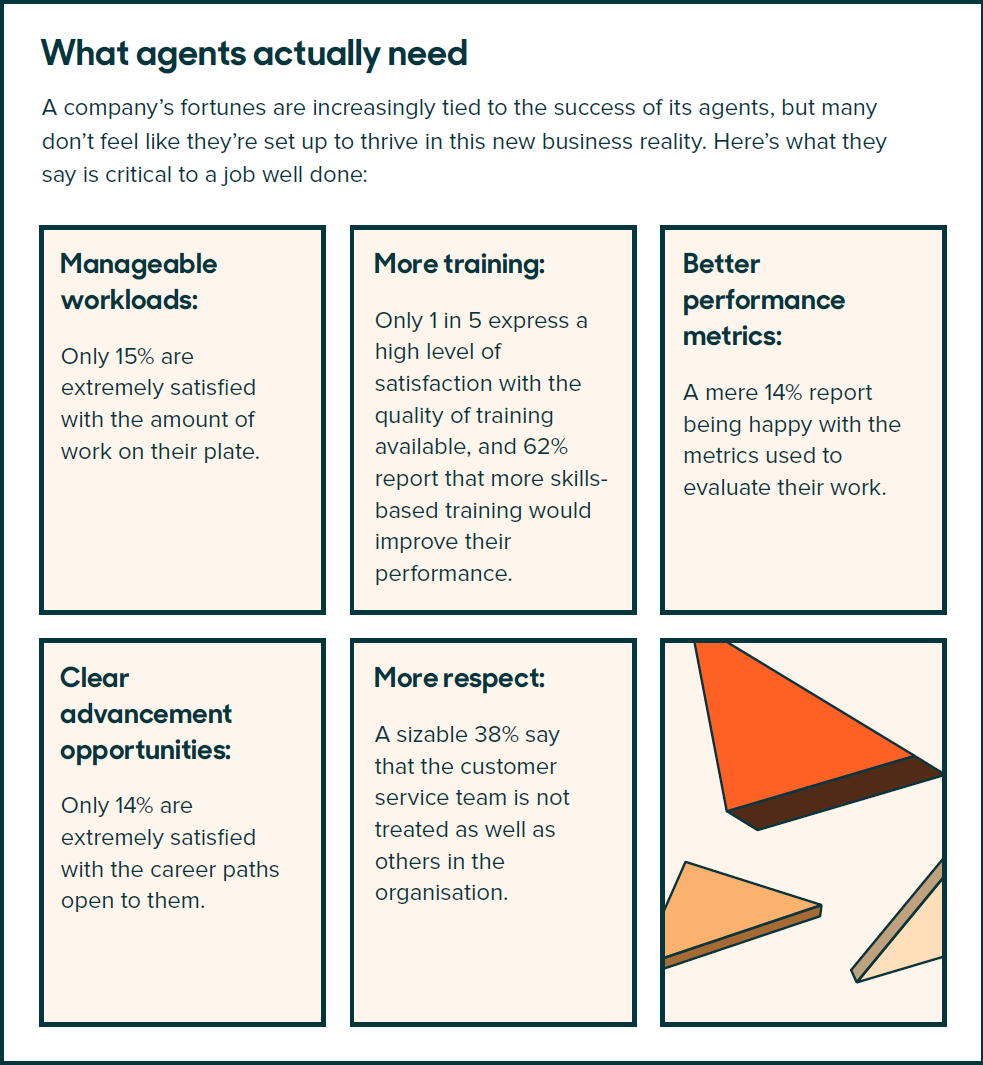 Customers are already noticing; 68% feel that businesses need to improve agent training. And luckily, it's a top priority for the year ahead: 53% of company leaders expect some increase in the amount of training offered to agents, while 28% of leaders plan to undertake major changes to their program. Focus areas for the next 12 months include training on upselling and cross-selling (53%), boosting flexibility to solve specialized problems (52%), and servicing multiple channels (48%).
Disjointed systems confuse customers and halt the growth
Having a best-in-class customer service team isn't possible without the right tools in place.
And if the right hand isn't talking to the left hand – or anyone else, for that matter – it's going to mean more frustration for customers.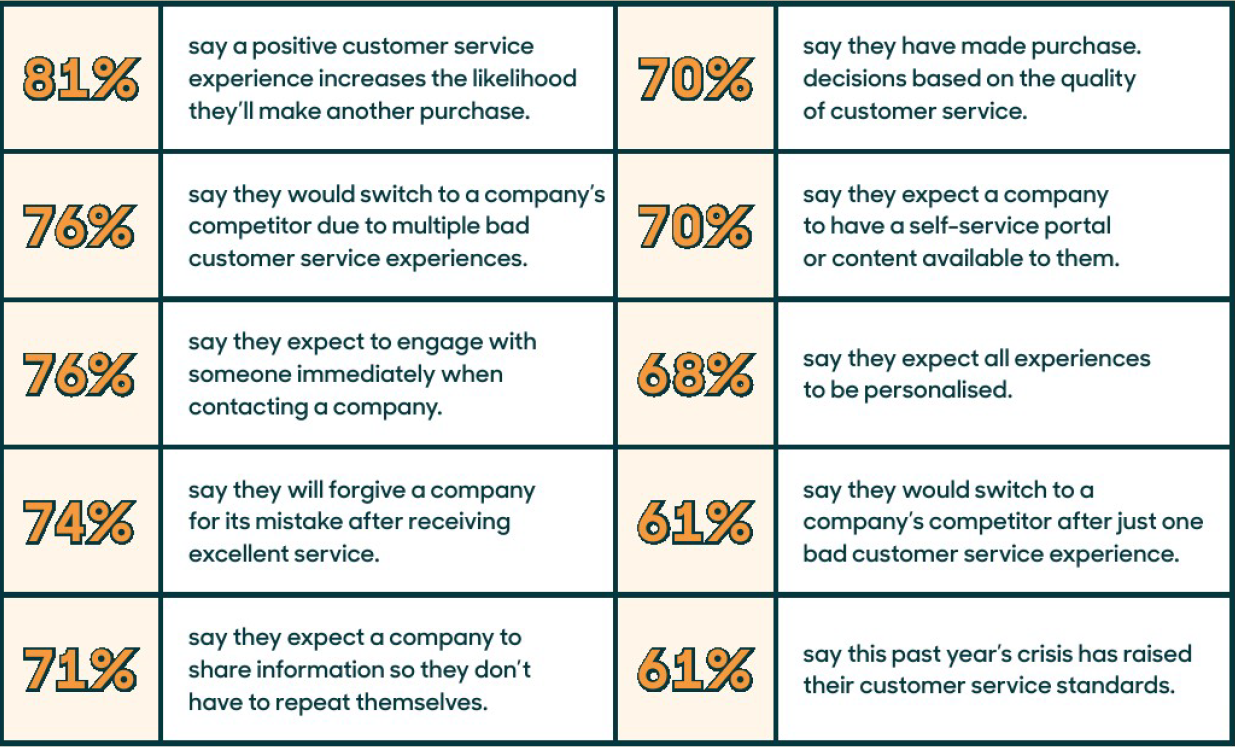 Expectations like these are hard to meet without a streamlined workflow operating behind the scenes. And when it comes to optimizing on the back end, companies have some catching up to do.
Efforts to optimize internal operations have largely taken a back seat to more visible, customer-facing priorities, things like revamping the website or increasing the number of support channels. What companies didn't realize is that back-end inefficiencies directly affect customers, too, and the cracks are beginning to show.
When agents and admins have to juggle multiple tools, it's incredibly difficult to get the right information, collaborate across teams or capture a single view of the customer.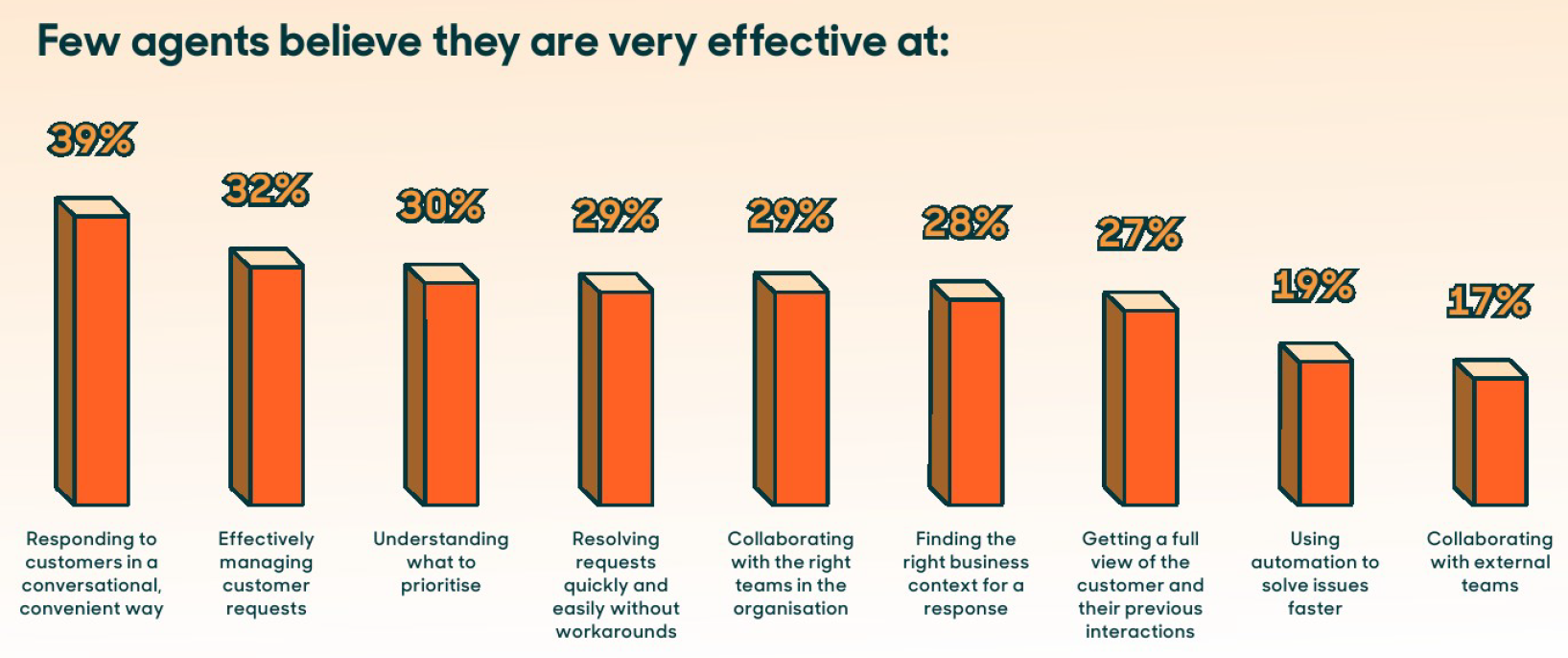 In short, fewer opportunities to personalize and anticipate customer needs, and more time spent getting up to speed while the customer waits. Only 29% of agents say they are very effective at collaborating with other departments, and even fewer (28%) say the same about their ability to find the information needed to respond to customers.
What customers want and what they're getting from service teams isn't matching up. To get there, 26% of companies say that they'll need to design new internal workflows and processes, but there's an upside for those that are serious about change. Over 90% of customers are likely to spend more money on companies that can offer the personalization and streamlined experiences they're looking for.
https://en.bareinternational.com.cn/wp-content/uploads/2022/07/2022-Zendesk-CX-Trends-Report.png
1164
2093
suopu
https://en.bareinternational.com.cn/wp-content/uploads/2023/05/BARE-ISO-Badge-2023-1.png
suopu
2022-08-05 11:12:47
2022-08-08 10:12:13
FIVE CUSTOMER SERVICE TRAPS THAT COULD DERAIL GROWTH