Explore the Qualtrics 2022 Consumer Trends Report to find out how consumer behavior and preferences will change in the year ahead and what you can do to attract and retain customers moving forward.
Toss out the pre-2022 business plans
If you thought 2022 would be the year we went back to normal: think again. What consumes buy, where they buy, and how they use their purchases have changed – and continue to do so.
In the fact of supply chain issues and labor shortages, businesses are struggling to keep up with the knowhow, infrastructure, and people to respond.
The result? The gap between what consumers expect, and what companies actually deliver is bigger than ever.

The study found the biggest areas of improvement for companies were in prices and fees, customer service, product capabilities, and ease of use. Online resources and the buying process were also key areas where consumers wanted businesses to improve.
What do companies need to improve, according to consumers?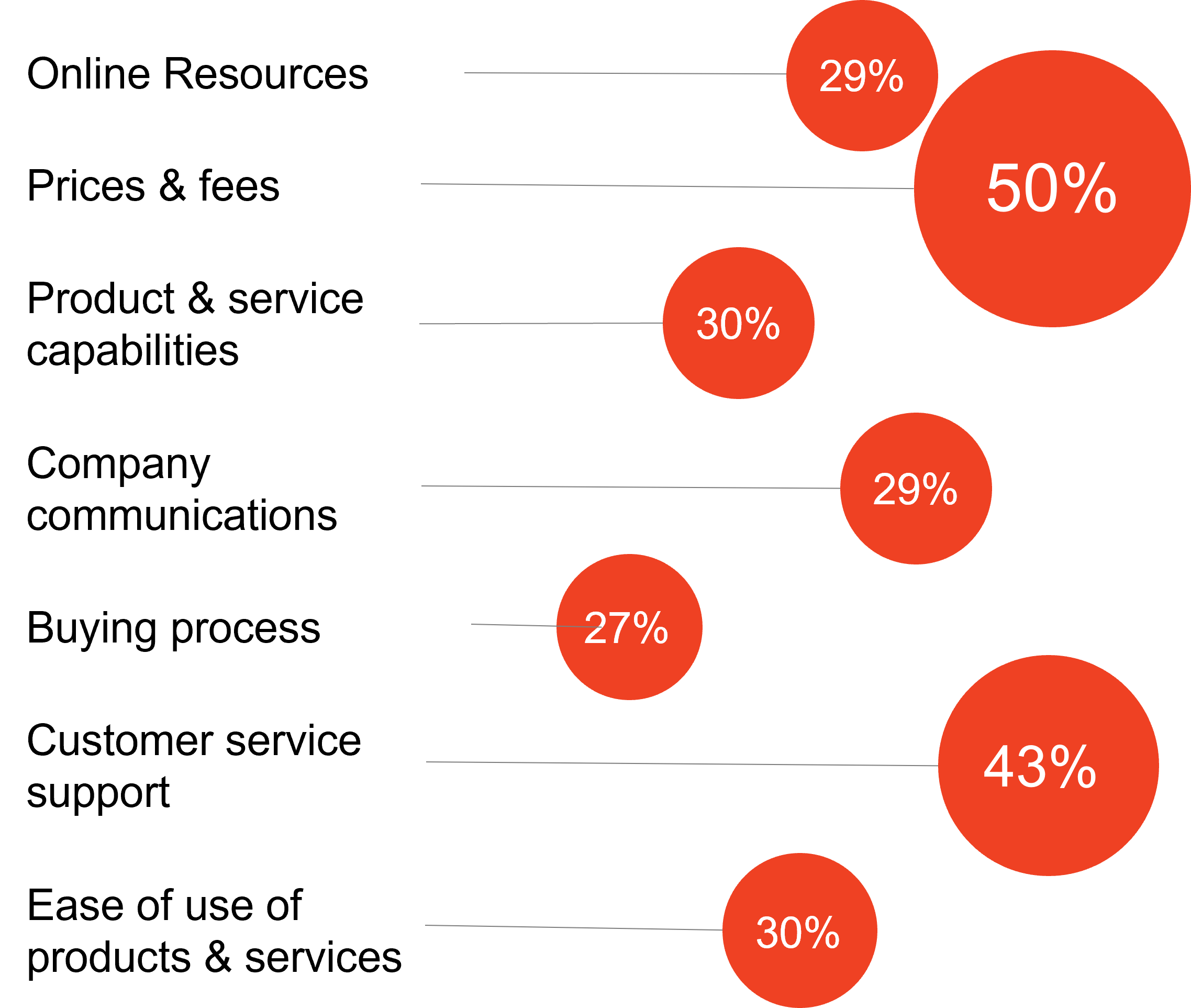 As people's expectations have changed, companies haven't kept up, perhaps waiting, and expecting consumers to revert back to "the old way". That's not going to happen.
Products and services haven't been updated to what consumers need now, and as people flocked to digital over the past 18 months, companies have failed to respond, leading to fragmented and frustrating customer journeys and support as they switch from one channel to the next.
The way forward
As we move into a new era post Covid-19, you need to take a fresh look at everything to understand once more what's working, what's not, and identify the actions to take to close the widening gap between your business and your customers.
+ Radically overhaul your customer service.
A one-size-fits-all approach to service just won't work anymore. As customers engage with you across multiple channels you need to be able to understand what each customer needs, when they need it, and deliver a tailored service on the channels they prefer to use.
Overhauling your customer service involves not just blindly deflecting to self-service options but recognizing which options work best for which customers and when.
Questions to ask include: at which points do customers need the most support? Are you offering a good combination of channel options? Are you aware of the needs of different customer segments?
+ Think customer, not channel.
From the buying process, to how people use your products and access support, how customers interact with you has changed. As you look to understand what they need, break down silos between channels and look at the end-to-end journey to identify what's working, and what's not.
+ Make agile your default setting.
With current global supply chain issues and labor shortages, finding smart ways for humans and technology to coverage will help ease the burden on your people. Equip teams with the tools and processes to automatically get insights to the right people, so they can take action on it quickly.
For the original report, please visit https://www.qualtrics.com/ebooks-guides/2022-cx-trends/.
https://en.bareinternational.com.cn/wp-content/uploads/2022/04/websitenewsbanner-20220427.png
430
1903
suopu
https://en.bareinternational.com.cn/wp-content/uploads/2022/07/340-156-Primary-Red.png
suopu
2022-06-17 10:49:46
2022-06-17 18:36:35
2022 Global Consumer Trends in the CX World (part II)